Official doctoral program in applied physics
Programme Description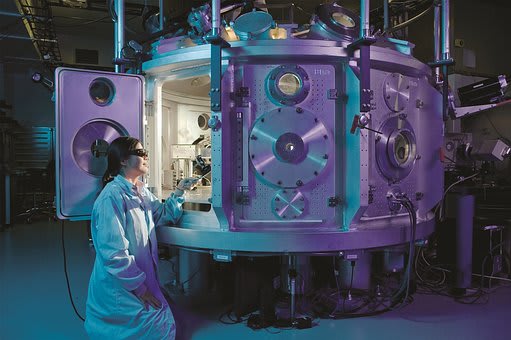 Introduction
The Programme Doctoral Degree in Applied Physics Is an official university degree framed in the field of applied sciences and oriented to different aspects of science and technology. It is an interuniversity program between the University of Vigo (coordinating university) and the University of A Coruña.
The objective of this program is to provide the necessary skills to our students so that through the completion of their doctoral thesis they acquire the knowledge that allows them to carry out research projects and / or their incorporation into the industrial world.
Why study the degree
The global society is immersed in a continuous and rapid technological evolution, which some have already proposed as a new historical, technological and social acceleration. Physics, and in particular Applied Physics, is a link that can avoid what was called a technological gap, allowing us to establish contact between natural phenomena and technological and applied "phenomena". This will favor the development of companies related to new materials and the environment such as polymers, new fuels and refrigerants, ionic liquids, physical pollutants, meteorological and / or oceanic aspects related to the environment, etc.
What is learned
Students can choose from three specialties.
Physics Applied to Materials
Physics Applied to the Environment
Applied laser technologies
Students can integrate into one of these lines of research:
Thermofísica de Liquidos
Science and Technology of Polymers
Applied Physics of the Environment
Applied Laser Technologies
Computational Physics
Lines of investigation
These are the lines of research of this doctoral program:
Thermodynamic analysis of polymer mixtures
Industrial applications of lasers
Astrobiology
Thermophysical characterization of ionic liquids at high temperature
Persistent currents in superconductors of high critical temperature.
Critical phenomena in liquids and liquid mixtures.
Physics Applied to the Environment
Physics of the atmosphere
Photonics
Measurement of physical properties of pure ionic liquids and mixed with organic solvents, inorganic salts and polymers.
Measurement of physical properties of molecular liquid mixtures
Optical Metrology
Hydrodynamic modelling
Nanofluids
Nanoparticles
New Materials
Physical Oceanography
Operational Oceanography
Processing of polymeric materials
Dielectric Properties
Mechanical Properties of Polymeric Materials
Analytical Chemistry of Plastic
Refrigerants
Rheology and thermal analysis of biopolymers
Molecular simulation in liquids and liquid mixtures
Elastomer Technology
Specific Training Complements
In case the doctor does not have the complete previous training required in the program, his / her admission to the program may be conditioned to the surpassing of specific training complements, which may be subjects or modules of master and degree. The complements assigned to the same doctorate may not exceed 15 ECTS credits and may be made prior or simultaneous to the tuition in academic tuition in the program.
In case of simultaneous realization the students will have to register for these complements at the moment of formalizing the tuition of academic tutelage in the program, which must be surpassed in the maximum term of three consecutive quarters. Failure to do so will result in student disqualification from the program.
Professional and academic outputs
The labour market of the doctorate of Applied Physics extends from the teaching positions and researchers in the areas related to the doctorate to the incorporation in companies and organisms related to the environment, technology in the field of health, new materials, photonics, etc.
Recommended profile
In general, for access to an official doctoral program it will be necessary to be in possession of the official Spanish degrees of Degree, or equivalent, and of University Master.
Graduates, Architects or Engineers who are in possession of the Diploma of Advanced Studies obtained in accordance with the provisions of Royal Decree 778/1998, of April 30, or may reach the research adequacy regulated in the Royal Decree 185/1985, of 23 January.
Licensors, Architects or Engineers who hold an official master's degree in accordance with Royal Decree 56/2005 or Royal Decree 1393/2007, as amended by Royal Decree 861/2010, or have passed 60 ECTS of studies of official Master.
Diplomats, Technical Engineers or Technical Architects will also be able to access to the doctoral studies that have accredited to have passed 300 ECTS credits in the set of official university studies, of which at least 60 are of University Master's level.
Last updated Mar 2020
About the School
The University of A Coruña is a public institution whose primary objective is the generation, management and dissemination of culture and scientific, technological and professional knowledge through t ... Read More
The University of A Coruña is a public institution whose primary objective is the generation, management and dissemination of culture and scientific, technological and professional knowledge through the development of research and teaching.
Read Less
A Coruña ,
A Coruña ,
A Coruña ,
A Coruña ,
A Coruña ,
A Coruña ,
A Coruña ,
A Coruña ,
Ferrol ,
Ferrol
+ 9 More
Less