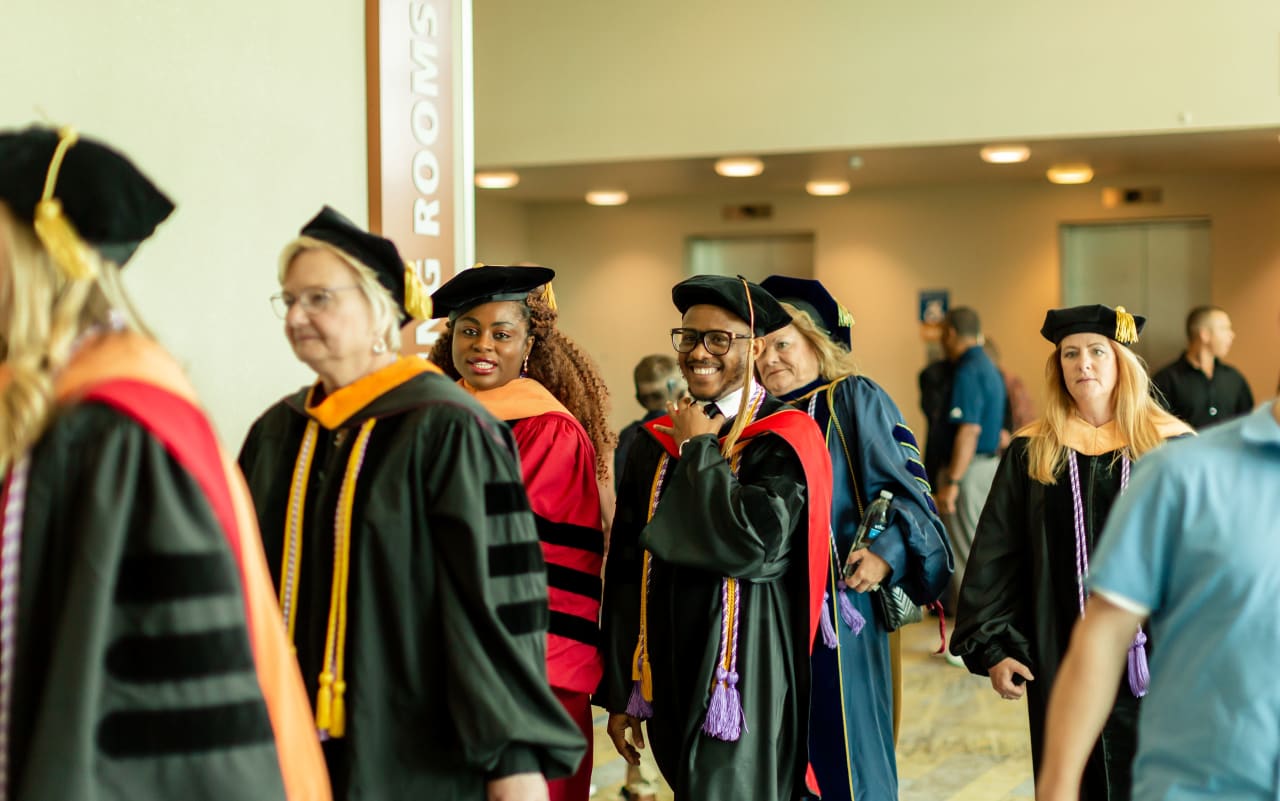 Doctor of Business Administration (DBA) in Strategic Management
United States University (USU)
Key Information
---
Campus location
San Diego, USA
Study format
Distance learning
Application deadline
Request Info
Earliest start date
Request Info
* $26,180 - Total Estimated Total Institutional Charges (Including Fees) for Domestic Students
Introduction
ACCELERATE YOUR CAREER
The USU DBA program is designed to prepare professionals to practice in their chosen career. This doctorate is considered a practice doctorate rather than a research doctorate. The DBA program offers students opportunities to develop competencies needed for various roles in advanced practice, leadership, and policy. The objective is to develop scholar practitioners to lead organizations.
The highest level of commitment to leadership excellence
Throughout the program, DBA courses will include opportunities to demonstrate mastery of higher order skills. Doctoral graduates should possess capabilities such as critical thinking, ethical thought, preparedness for independent inquiry, critical consumption of the literature, research skill capabilities, ability to apply research to business problems, knowledge of industry best-practices, and professional communication and behaviors.

ADVANTAGES OF USU
Online
100% online program—no in-person residency required.
Accelerated Program
The DBA program is designed to be completed within 24 months.
Flexible
Designed with working professionals in mind, the DBA program allows students to take one or two courses at a time.
Fully Accredited
USU is accredited by WSCUC.
Affordable
Payment plans are available.
Rolling Starts
Courses start every 8 weeks.


ACCREDITATIONS & APPROVALS
Curriculum
DOCTOR OF BUSINESS ADMINISTRATION CURRICULUM
42 Semester Credits / 18-24 Months
Delivery Mode: Online
The USU DBA program is designed to provide professionals and executives with advanced tools and skills required for strategic planning and decision making. DBA graduates continue their career as management executives, use the degree to shift their career, or use the degree to alter their career trajectory within the same discipline. Graduating from a DBA program demonstrates the highest levels of commitment to continual learning, leadership excellence, and professional development.
DBA COURSE REQUIREMENTS

CORE REQUIREMENTS

DBA701

Scholarly Writing and Formal Inquiry

DBA702

Topic, Justification, Purpose, and Research Questions – Specific

DBA703

Literature Review

MGT701

Theoretical Foundations of Management

MGT702

Seminar in Organizational Behavior

MGT703

Seminar in Organizational Theory

MGT704

Advanced Topics in Business Ethics

MGT705

Advanced Topics in Business Policy and Strategy

RES701

Research Theory, Design, and Methods

SPECIALIZED RESEARCH DESIGN ELECTIVES

Students are required to take 3 credits of electives from the list below.

RES702

Topics and Application in Case Study Design

RES703

Topics and Application in a Systematic Literature Review–Specific

RES704

Topics and Application in Archival Data Analysis

SYSTEMATIC PROJECT COURSE REQUIREMENT

SDP701

Systematic Doctoral Project

SDP702

Systematic Doctoral Project II–Specific

SDP703

Systematic Doctoral Project III

SDP704

Systematic Doctoral Project IV
Program Outcome
PROGRAM OUTCOMES
Students of the DBA program will:
Propose and assess ethical frameworks to advance corporate social responsibility and ethical decision making.
Critically evaluate theoretical and applied research in business administration.
Synthesize knowledge of the scholarly literature in strategic management.
Conduct and defend applied research that engages a pragmatic business problem.
Justify solutions for the refinement of business practice based upon research, knowledge of the literature, and best practices.
Formally summarize advanced knowledge in their field of study verbally and in writing.
Appraise and refine solutions to organizational problems using a strategic management perspective.
Career Opportunities
CAREER SERVICES
Career Services are provided to all United States University students and alumni at no cost. USU Career Services can support you with the following:
Resume and Cover Letter Writing
Learn how to create resumes and cover letters that attract recruiters and hiring managers. You can also have your documents reviewed by Career Services.
Interviewing
Identify interviewing strategies specific to your skills, personality, and career goals, and increase your confidence. Additionally, Career Services offers mock interviews to help you prepare.
LinkedIn Profile & Navigation
Understand how to set up a great LinkedIn profile and have it reviewed by Career Services.
Career Assessments
Career assessments can help you identify and explore your unique talents, skills, interests, values, personality, and abilities.
Job Searching & Salary Negotiation
Students and alumni can make an appointment with Career Services to get help with job searching, salary negotiation, and more.